In 2009 Iraq ordered 420 BTR4 vehicles from Ukraine.
These will work alongside the M1A1SA / M113A2 equipped tank regiments in Iraq's Armoured and Infantry divisions.
Iraq bought the following mix of vehicles.
270x BTR4 Armoured Fighting Vehicle with PARUS turret (30mm cannon, 40mm grenade launcher, 7.62mm machine gun and 2x anti tank missiles)
80 command vehicles (same as IFV but with extra radios)
30 staff vehicles (for commanders, without turret)
30 ambulance
10 repair and recovery
btr 4 with PARUS (iraqi army configuration)
the Parus remote-controlled overhead weapon station (OWS) equipped with 30 mm 3TM-1 automatic gun, 40 mm automatic grenade launcher, 7.62 mm machine gun and Barrier anti-tank guided missile system (max firing range is 5,500 m). The main advantage of the Parus OWS is that it does not occupy the inner space of the vehicle and makes it possible to carry out maintenance from inside the vehicle under the complete armour protection of the hull.
control console of the PARUS unmanned weapons turret.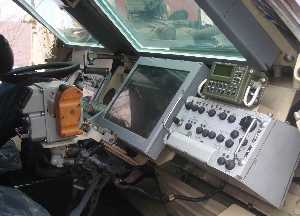 unlike the "old" BTR vehicles, the new BTR4 is a complete redesign, and now has rear access doors for the infantry.